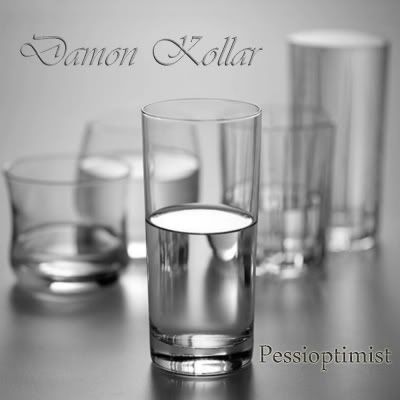 Good morning and Happy Turkey Slayer day! Hope everyone is enjoying their day with friends, family and lots of good food! As promised, Vinyl Fluid Records is pleased to present you with the full length solo debut from Damon Kollar available for immediate FREE download. Please help spread the word and share this link with your friends. Thank you for your continued support!
Pessoptimism:
A philosophy that encourages forward-thinking optimism with an educated acceptance of a basic level of pessimism. Optimism's fault is it's naivete, pessimism's it's blind jadedness. We live on Earth and are human. There is, was and will be good and bad. Shit happens, dreams come true.
Hey kiddo, have a little pessoptimism. Keep your eye on the mountain, pretend the obstacles aren't there, but don't get too bent out of shape when there's a thousand miles, an abyss, a cougar and crossfire before you get there. And that's alright. The goal isn't really worthy without that stuff in the way.
Apply that mentality to music and you have the debut full length solo release from Damon Kollar on Vinyl Fluid Records. Enjoy.
DOWNLOAD LINK:
http://vinylfluidrecords.bandcamp.com/a ... sioptimist